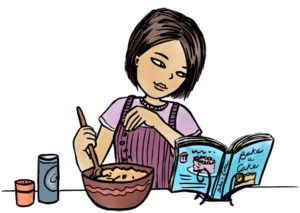 If you are an adult with ADHD meal planning can be a logistical nightmare. The reason being it involves all the challenges when you have ADHD such as decision making, planning and paying attention to details.  When you adult with ADHD, a healthy diet is essential and your unwanted ADHD symptoms can be minimized or can disappear. Here are some tips on making meal planning simple, so you can do it.
Review your calendar - Figure out which nights you will be coming in the door late.  Do you have a stressful day coming up and you know you will not feel like cooking?  Give yourself some slack on these nights and plan leftover meals or something from your freezer that doesn't take long to make.
Prep meals for an entire week – A good friend of mines uses her Sunday afternoons to prep her family's meals for the whole week. She cooks her chicken, chops the veggies and then packages everything so all she has to do is to take it out of freezer, dethawed it, heat it up and serve it.
Keep track of your meal planning successes – Find a way to keep track of your meal planning successes so you can repeat them such as keep a list of your family's favorite meals, take a picture of your meal plan each week or even mark pages of your cookbook with sticky notes.
Share the responsibility for dinner preparation - Establish an "assigned cook" for the week. The younger children can be assigned to be the "cook's assistant" – setting the table, gathering the ingredients.  The kids in middle/high school can certainly learn how to prep one or two of the family meals during the week especially if the meal is one of their favorites.