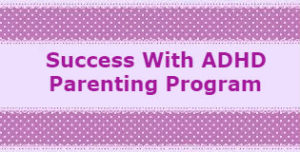 Being a parent with a child with ADHD has its unique challenges that few really understand unless they are themselves a parent of a child with ADHD. Children with ADHD often experience a range of challenges which may include trouble behaving at home and/or school, organizational problems, difficulty completing homework or other tasks.
The Success with ADHD Parenting Program is a 9 week online program for parents rasing children with ADHD who know that they must learn to parent their children differenty to fuel lifelong success. Whether your child has been newly diagnosed or you are a parent warrior who has been working with your child's ADHD for years. The Success with ADHD Parenting Program will assist you:
Understand Children with ADHD
How to Cope with ADHD Behavior
How to Manage Your Child's Anger
How to Create Effective Morning and Evening Routines
Improve success with homework
Practice parenting skills that actually work
The Success With ADHD Parenting Program Includes:
1.  Class Sessions - 9 weeks, Hour & Half (1 1/2) classes. Classes are pre-recorded and emailed to you. Class is limited to 12 people:  Starts February 14, 2018 - April 11, 2018
2. One private phone coaching session each month with Coach Jenna for each of the participants. ( No additional cost)
3. All program materials will be emailed you to .
4.The cost is $75.00 dollars. Payments can be made through Paypal.   Never Defeated Coaching does not offer refunds.
Questions You May Have About The Program
Where does the ADHD Parenting Program take place? Everything is online- no travel is required. We will meet once a week for an hour and a half via the telephone. I will provide the call in number and access code and the materials. You will have a lifetime access to the recordings program and go back through them after it is over. Facebook will be used for the Secret Facebook group.
Who is Right for the Success with ADHD Parenting Program?
The program is for parents who are committed to their children's well being and willing to think outside of the box. It for parents who know that in order to get something new out of their children they need to be willing to do something different. The Success with ADHD Parenting Program is designed for parents who are willing to look inward first instead of solely focused on what is wrong with their child with ADHD. This program is designed for parents willing and able to to take in alot of information and be able to think critically about how it will work best for their child, family or situation. While this program will offer amazing information and soultions, there is no one size fits all answer to every ADHD child's struggle.
What Types of Payment do you accept?  All payments will be made through Paypal.
What If Have Another Question Not Listed Here? You can email Coach Jenna Knight at jenna@neverdefeatedcoaching.net